Create a store for your digital content
Sell photos, music, videos, tutorials, books, courses and more
Get started
Start sales in 4 easy steps
Upload your work
Add description and price
---
Design look and Share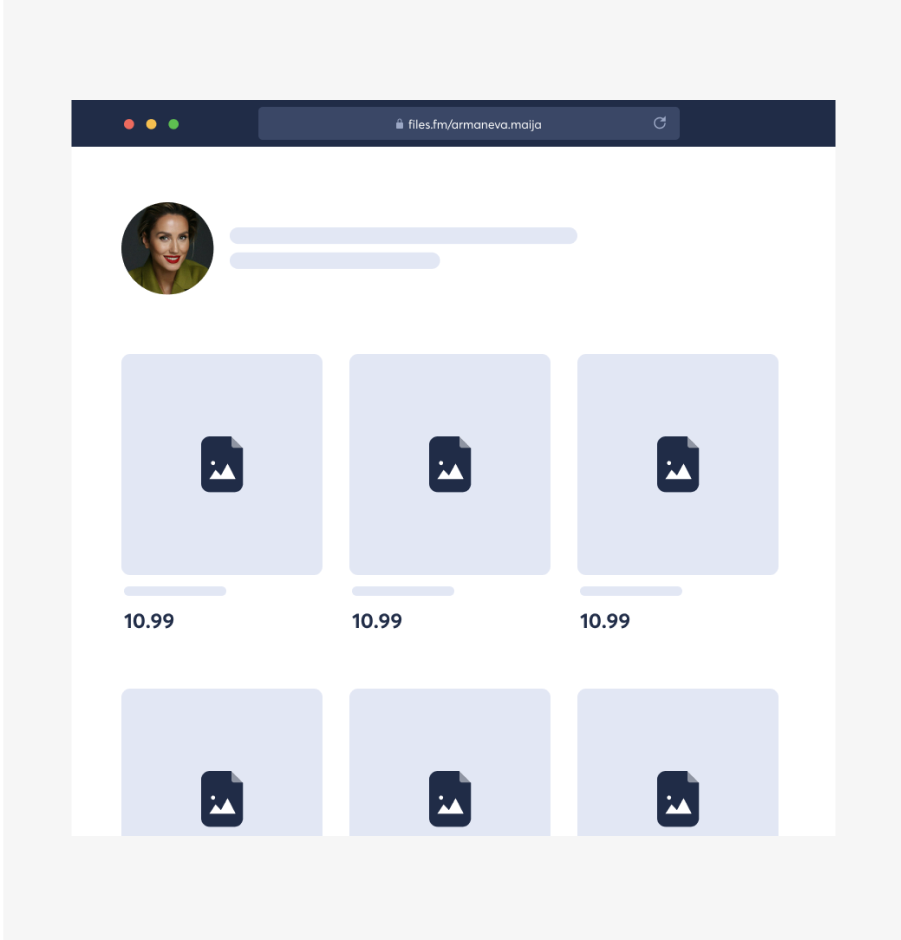 Sell and receive payments
Sell in 5 ways
With a private product link
Send a private purchase link and get paid
Via your public profile
Publish products in your store
On your social media
Share the link on your social networks
On your website
Integrate files.fm within your existing website and start selling instantly.
On Files.fm marketplace
Design Your products and get discovered by our community
No hidden fees
We take 10% commission to support the platform and client pays 0.29 payment fee.
This is how you make money
Get started free
* Client pays for transaction 0.29 €
Seller account plans
Basic
€0/mo
5GB cloud storage
Your public store
Payments
---
Pro
€4,9/mo
10GB file size supported
250GB cloud storage
Custom branding
Password protection
Access control
Unlimited data traffic
Embedd content on websites
No ads
---
Business
€10/mo
All Pro features
Transfer up to 30GB
Multiple users
File versioning control
180 day file recovery
Two Factor Authentication security
Invoicing
File Sync and Automation
Business sales support
Top answers about features
Payments included
Integrated VISA and Mastercard payments. No setup required.
Reports and Invoices
Reports are available for all transactions, views, purchases and download statistics.
Any content type
We support all file formats & sizes: raw, photos, videos, audio, Documents, Presentations, Books, Vectors and other.
Discoverable
We might showcase your products to other service users on content Library and social networks!
Passive income
Set up your digital store, post useful content, describe it and earn 24/7 while You sleep!
Money payouts
Sales, invoices and customer data is listed on your account for each sale. You request money payouts to IBAN bank account or Paypal.
Views or downloads
Sell views, streams, downloads or even live events. Users have secure access to content ONLY via their account after payment.
Multilanguage
Store interface is available in English, Spanish, German and Russian, so you can sell internationally!
Search & Discovery
We support tags. Descriptions are search engine friendly. Add them and users may discover your content on Library.
Create account, upload content and set up your store!
---
Familiarize yourself with the terms and legal details